Lorrie, what do you love about living in the Iowa City-Cedar Rapids Corridor?
I love the small community of North Liberty! It's in between Iowa City and Cedar Rapids so it's a quick commute to either. North Liberty has all of the amenities of a larger city while still maintaining a small town feel.
What's your favorite restaurant and/or place to shop in the area?
My favorite restaurant is Reds Alehouse. They have wonderful flatbreads and burgers and make a fantastic Long Island Iced Tea with homemade sour!
Tell us about your career.
I am currently retired but I worked for years as a warehouse manager for an internet company in Iowa City.
Why did you decide to study Art?
I have a Bachelor degree in Art and Design from Rochester Institute of Technology in New York. As a child I was always drawing and painting. Every Christmas and Birthday I would always ask for art supplies. There was never a question of doing anything else. But making a living in the Arts is hard even during the best of times. If you are not a teacher or work for a design firm, steady income for a fine artist can be very difficult.
How did you juggle work with mommyhood?
My husband and I were unable to have biological children, and after trying for a short while, we decided to adopt two children from Korea.
My mother had been in a foster home from the time that she was 2 years old until she married my father. She grew up with 7 other foster sisters in the same home. My Grandmother was not a biological relative to me or my (foster) aunts but our bond was stronger than if it had been by blood. My Aunts, their spouses, and my cousins are all biologically different from each other which gave us some pretty interesting and fun family get togethers. I believe that this foundation of acceptance in the differences of others is what led my Husband and I to consider adopting without blinking an eye. I often forget that my kids are adopted as they have completely fulfilled our dreams of becoming parents.
Since money was tight, I put my art career on the back burner in order to contribute financially to our growing family. I'm sure that many women find themselves in the same position and make compromises in their career in order to give their family what is needed at the time. When my daughter was 3 and my son was 6, I was diagnosed with breast cancer at the young age of 38. I found my own breast lump and sought help (even though I was so young and had no history of breast cancer). It was a really scary time for our family but after two surgeries, oral chemo, and radiation treatments, I have been cancer free for over 25 years which is the greatest blessing that I have received! I have been able to see my children graduate high school and college and my son got married a year and a half ago and being able to experience that makes me eternally grateful. During my healing process I had a wonderful "Reach to Recovery" volunteer from the American Cancer Society who would talk with me. She had also been through breast cancer and was such a positive person. She helped me so much that after I recovered, I became a RTR volunteer for the organization as well. I cant stress enough how important self breast exam is especially for young women as cancers in this age group can be very aggressive and mine was caught in the early stages which saved my life.
When did you start this tradition of decorating the house and what motivates you to do it every year?
Over the years I have worked at warehouse jobs outside the home for steady income while all the while raising my kids and doing artistic projects in my spare time. It has been a balancing act as most mothers would attest. But now that I am retired, I paint and sculpt nearly every day. The kids are raised and I can once again get back to my lifelong passion pursuing the arts.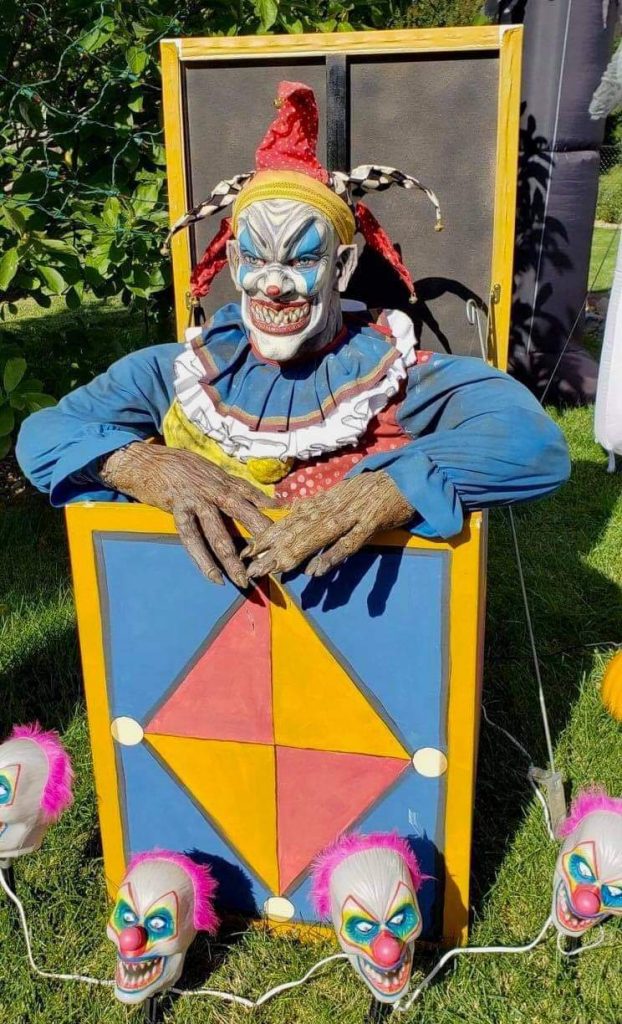 My Husband and I started decorating our home for Halloween and Christmas about 18 years ago. Every year we would add new things, more lights, etc. We even have neighbors who have donated items for our display. Our kids have never really understood our obsession with it but I believe that it was born from the night of the luminaries that Coralville always puts on. When our kids were little, several neighborhoods would all plan together in Coralville to decorate their homes and put luminaries along the sidewalks. It was wonderful! We would put the kids and Grandma and Grandpa in the minivan and drive through the displays. It was like a little Las Vegas! Some of the homes really went all out. Over the years, the displays got smaller. People moved away or aged out of the tradition. We missed it and so we decided even if it was only us, we wanted to make a holiday display that would bring the same joy to the kids in our neighborhood that we had experienced when our kids were little.
We make many of the things for our displays which lets me use my creative side. My husband calls our Christmas show "Fantastical Nonsense" which is a good term for it. We like to dress up as Christmas characters and hand out candy canes to the kids sometimes on weekends but this year we have to socially distance. We have received so many "Thanks" from Moms, Dads, and kids for continuing this tradition especially during Covid-19 as it gives the kids something to look forward to and still feel the excitement of Christmas during a pandemic.
I'm not sure how long we will keep up this tradition as my hubby and I are both in our 60's, but at least for now there is one Gingerbread House on a cul-de-sac in North Liberty lighting up the night with some "Fantastical Nonsense"!
Visit the "Gingerbread House" at 500 Troon Court, North Liberty, IA 52317.