Nice weather, flowers, bunny, chocolate, egg hunts and spring cleaning are just some of the things that come with Spring!
The Iowa City-Cedar Rapids Moms Spring & Easter 2021 Guide is here to help you with a list of fun activities for the whole family! Plus, we want to put a spotlight on a few Local Businesses offering Easter goodies and deals, fun activities for kids and general services.
And don't forget to check our Easter in a Box to get the best products and deals from these Local Businesses just in time for Easter! Order yours HERE!
Bookmark this page, as we will be updating it throughout the season. Scroll down and enjoy the season!
Looking for more events? Check out our Events Calendar!
Elida's Bakery is a family Owned In-home Licensed Bakery in Iowa City.
They offer pastries, custom cakes, specially curated dessert boxes and much more!
Kalona Chocolates is a chocolate shop in Kalona, Iowa!
They make truffles, caramels, toffee, and seasonal candies. Check out their cute and delicious Easter chocolates!
• Chocolate Bunny • Fudge Eggs • Chocolate Dipped Oreos • Chocolate Lollipops
You can purchase chocolates to mail from their website or visit their store at 211 5th Street  Kalona, Iowa.
Take a peek inside their kitchen by following them on Facebook or Instagram @kalonachocolates.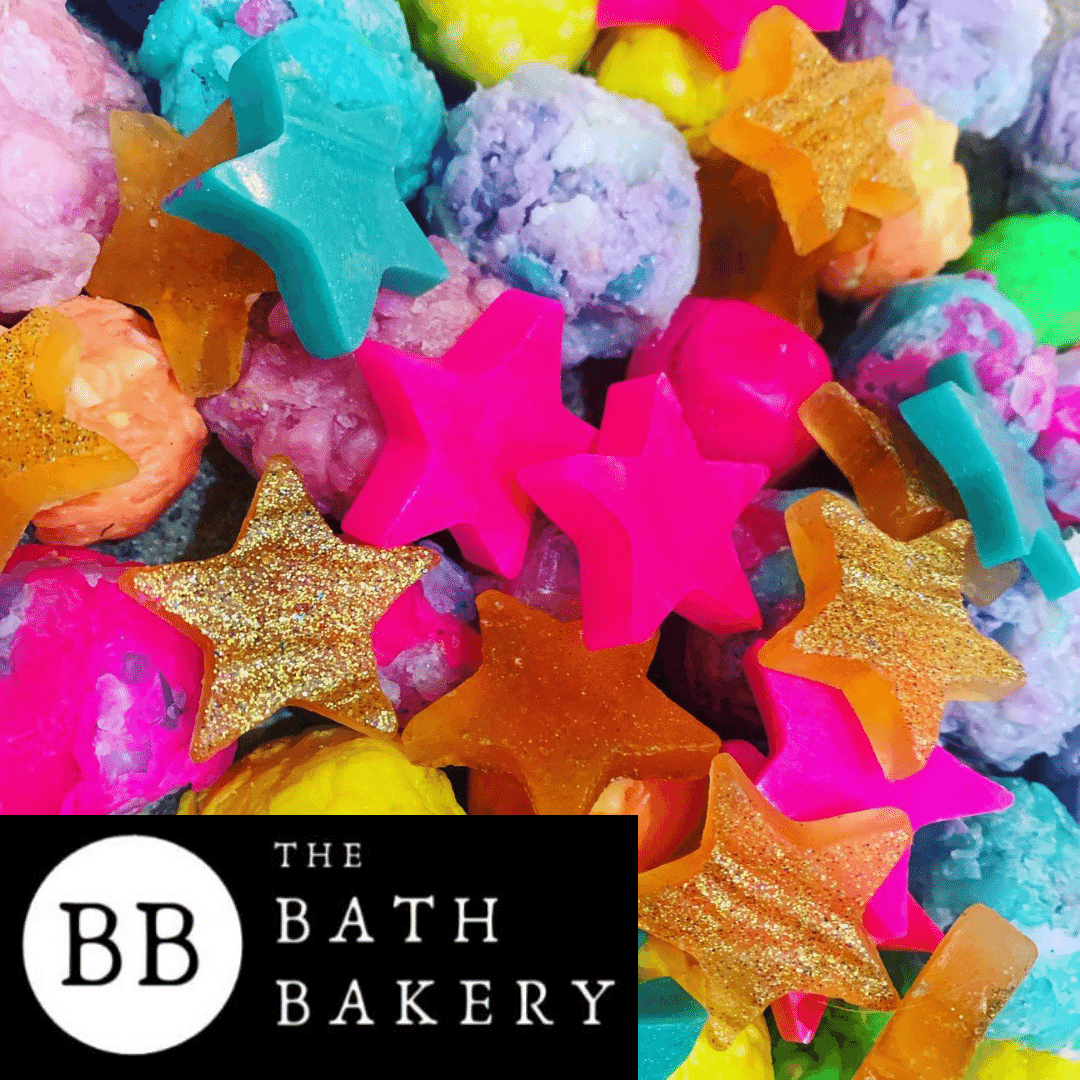 The Bath Bakery is a home based business in Iowa City.
They offer custom made soaps and bath products, bath bomb classes and more!
Children's Activities, Arts, Crafts, Party & Decor
Ma Petite Alice is a mama owned and operated online Crafts, Party & Decor shop based in North Liberty, Iowa.
Ma Petite Alice specializes in handmade, sustainable and creative things, and offer seasonal and custom items to fit any budget.
Get inspired by their beautiful portfolio by following them on Facebook, Instagram and Pinterest @mapetitealice.
Renee's Ceramic Cafe is a pottery studio in Iowa City, which offers pottery, clay, mosaics, canvas, glass and art-to-go-kits. They also offer adult and kids classes.
They can ship your art-to-go kit to you or arrange for safe curbside pick up at their studio at 940 South Gilbert Court,
Iowa City, Iowa.
Check out the studio and their events by following them on Facebook @reneesiowacity or Instagram @renees_ceramic_cafe.
The Shell is Little Sports Torts new Indoor Play Space in Cedar Rapids, where families can take their children and burn off some energy when the weather isn't so nice outside.
The Shell is built for children ages 1-6 years old. They have ride on toys, bounce houses, workout equipment, slides and more. Older children are welcome and will find things to do with their younger siblings.
Reserve a time to visit HERE.
Book your next Birthday Party!
[email protected]
Check out all the fun by following them on Facebook @theshellcr or Instagram  @littlesportstorts.
Hawk Wash is a locally owned automatic car wash in Iowa City. They offer both touch free and soft touch wash bays. With four wash types to choose from, you're guaranteed to find a wash that fits your needs!
Aside from their single washes, Hawk Wash offers wash bundles. These come in packages of six — six washes for the price of five! Hawk Wash will be launching their membership options this spring!
Check all their upcoming deals by following them on Facebook or Instagram @hawkwashic.
Travel Advisor
A Disney vacation is magical whether you are traveling to Walt Disney World, Disneyland Resort or sailing on Disney Cruise Line! Terri Davies is here to partner with you and help you plan a magical vacation for your family. The most magical part is her services are FREE!
Contact her with questions and ask for a quote HERE. Connect by following her on Facebook or Instagram @terridaviesdreamdesigner.
Spring & Easter Events in the Corridor
Bunny Bash – March 27 @ 10:00 am – 4:00 pm, Bloomsbury Farm $12.95
Visit with the Easter Bunny himself, Easter treat for each child, Baby bunnies & baby chicks to hold, Farm Attractions, Concessions available, Gift Shop will be open to browse, Wine Room will be open Buy Tickets: www.bloomsburyfarm.com/tickets
DATES & HOURS
March 27th – 28th, Saturday – Sunday
April 2nd – 4th, Friday – Sunday
10:00am – 4:00pm
Online: $12.95 + TAX / Gate: $15.95 + TAX
Easter Egg Hunt – March 27 @ 10:30 am – 11:30 am, Auxiliary Park – Tiffin – Free
Woodruff Construction is hosting an Easter Egg Hunt for children ages 1-12 years old! Come see the construction equipment! Bring your own basket. Face masks are required. Location: Auxiliary Park (across from the soccer fields), Tiffin, Iowa
Make Gardening a Family Affair – March 27 @ 1:00 pm – 2:00 pm, Marion Public Library – Zoom – Free
Green thumbs and new growers alike are invited to join in the fun! Pick up a garden starter kit the week of March 20-27 and join us for some tips and tricks on Saturday afternoon. Join Zoom Meeting https://us02web.zoom.us/j/83507725187?pwd=M1RhSTVidFVvZVdZMGxTM1RlejRhQT09
Passcode: GROW
"Hide & Peep" Egg Hunt: To-Go – March 27 @ 1:00 pm – 3:00 pm, Lindale Mall – Free
This event will take place at outside of Famous Footwear the weekend before Easter! Join us for candy & refreshments, face painting, and a selfie station! While the kids decorate their very own Easter treat bag, the Bunny will mingle & post for quick selfies. Then when you're ready to leave, pick up an egg hunt kit to take home and enjoy on Easter morning! Kits will be given out on a first come first serve basis registration is not mandatory but is encouraged for crowd control purposes:
https://www.eventbrite.com/…/hide-peep-egg-hunt-to-go…
Boozin' with the Bunny – March 27 @ 5:00 pm – 8:00 pm, Bloomsbury Farm $29.95
Reservations are required for this event. Must be 21 or older to attend. Buy Tickets: bloomsburyfarm.ticketleap.com/boozin-with-the-bunny/
Super Hero Night – March 28 and Last Sunday of every month @ 6:00 pm – 7:30 pm, Iowa Children's Museum – Coral Ridge Mall – Free
Every child is unique and each grows and learns in his or her own special way. During Super Hero Nights, admission is free for families with children who have special needs. Enjoy a quieter and welcoming environment throughout the exhibits. Tickets must be reserved ahead of time! Click here to view ticketing page. Simply select the date of the event and click "reserve" next to the Super Hero Night ticketing option. Please note: For the safety of guests and staff, New Ways of Playing still apply. Everyone is asked to follow the new policies, including wearing face masks, maintaining physical distance from other playgroups, and taking turns in exhibits. If someone in your group is physically unable to wear a mask, please alert the staff and check-in.
Easter Egg Extravaganza 2021 – April 3 @ 10:00 am – 1:00 pm, Bass Farms LLC $8
6th Annual Easter Egg Hunt at the farm! There will be 3 age groups: 3 years and under, 4-6 years old, and 7-10 years old. Due to COVID masks are highly encouraged and please practice social distancing. Easter Bunny will be outside walking around and greeting families as they are available. Please dress accordingly as this event is outside.
Egg Hunt Schedule:
3 years and under: Start time 10:00
4-6 years old: Start time 11:00
7-10 years old: Start time 12:00
This post contains sponsored content.
Is there a Local Business or Event we should add to our guide? We would love to hear about it.